VENUS Inn, bed and breakfast Positano. Don't  loose  your "discount code" in the  offer  section !
Bed and Breakfast Positano managed with dedication and passion to continue the activity and the family welcome handed down by the grandparents.
Ideal place to make you live a pleasant stay in a friendly atmosphere to discover the beauties of Positano and the Amalfi Coast or just to relax and enjoy a fantastic view.
The VENUS Inn, bed and breakfast Positano, is in a quiet area, near the beach of Fornillo and the main street where is the local bus stop, restaurants and shops.
The lodging for rent are large and airy, all equipped with a fridge, air condictioning  , WiFi  connection , safe box , coffee and tea making facilities, a private bathroom and a panoramic terrace. View of Positano and sea view.
Managed by the owner himself who defines himself as a "Friend in Positano", as when going to the home of a friend who gives you the best advice and puts himself at your disposal.
Also for this reason I made arrangements to have discounts for  the  guests of the  bed and  breakfast  Positano VENUS Inn ,  in restaurants  Positano, private parking, Archaeological Museum , Amalfi Coast tours, trips to Capri, transfer from Naples to Positano and Positano taxi.
I am pleased from the first contact, can give you the best suggestions to make you spend a simple and enjoyable holiday in relaxation and with reasonable prices  at the VENUS Inn  ,  bed and breakfast  Positano.
Location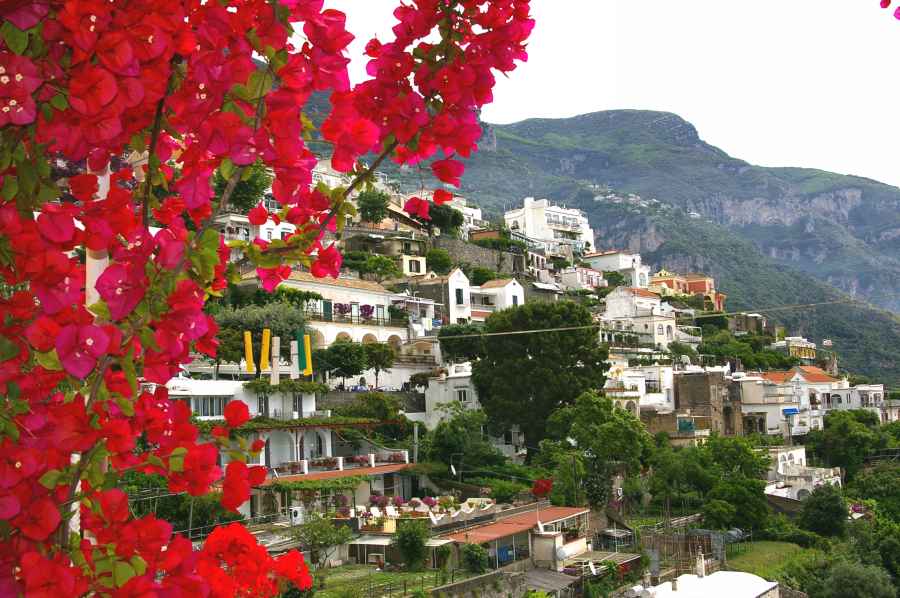 Surroundings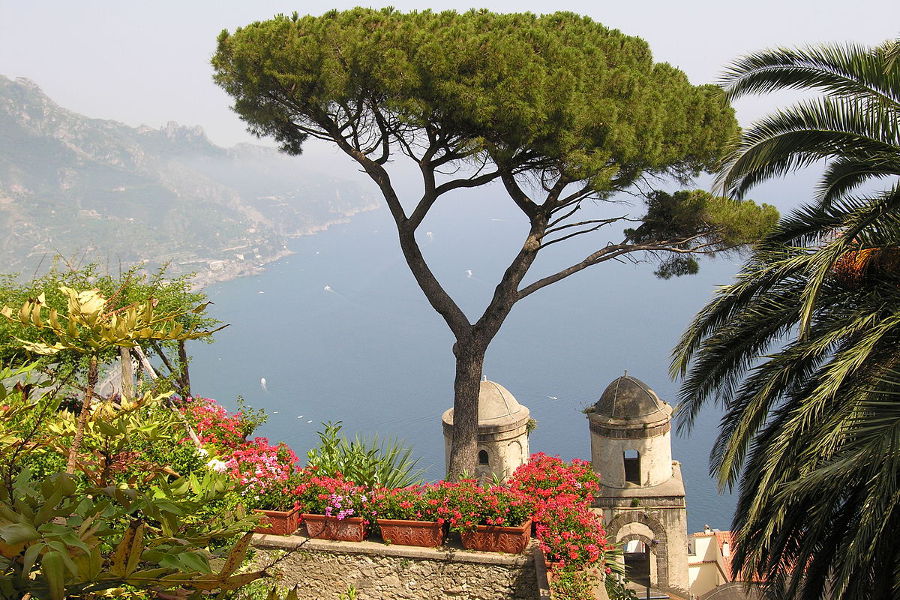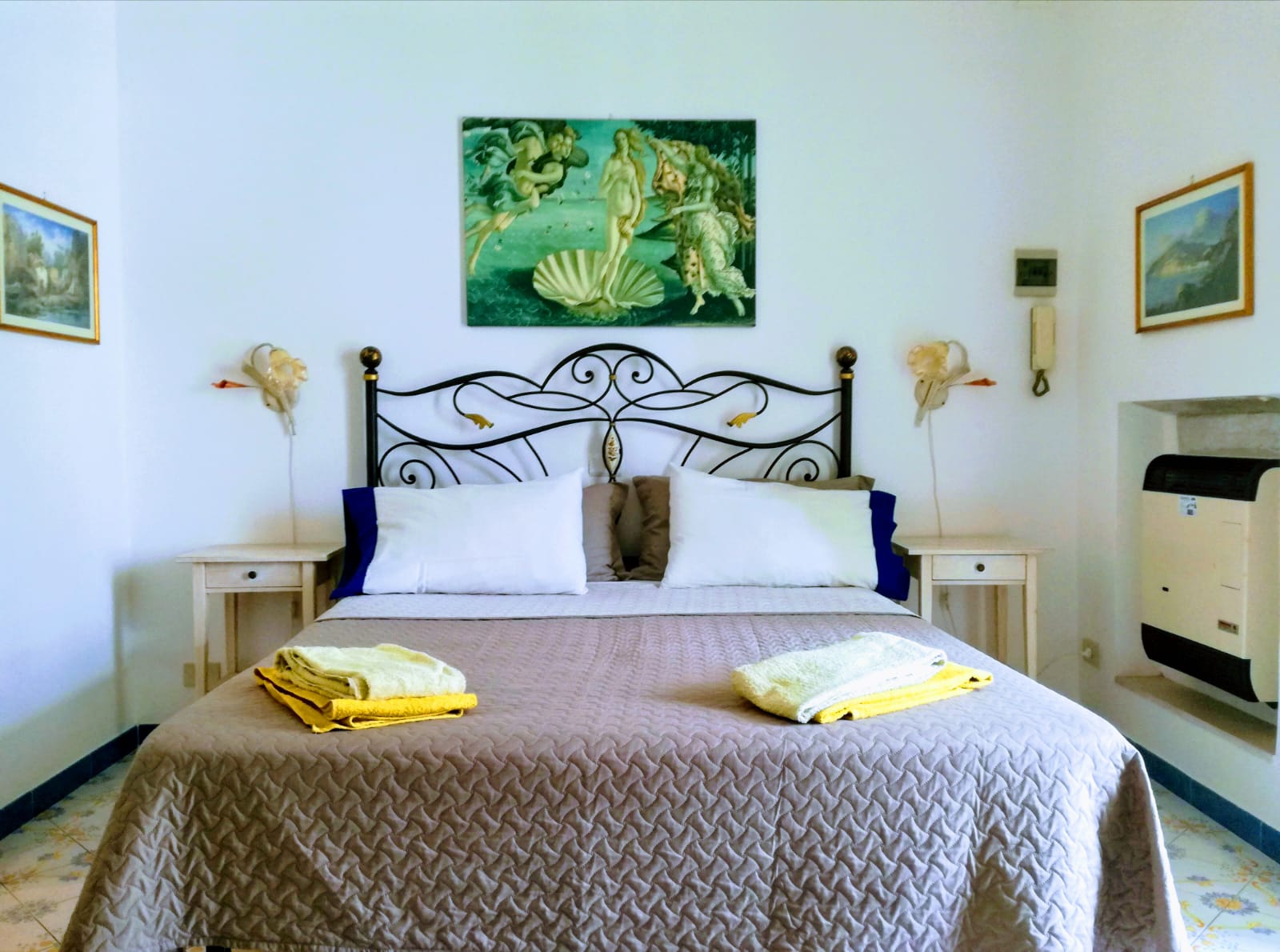 Ambra Room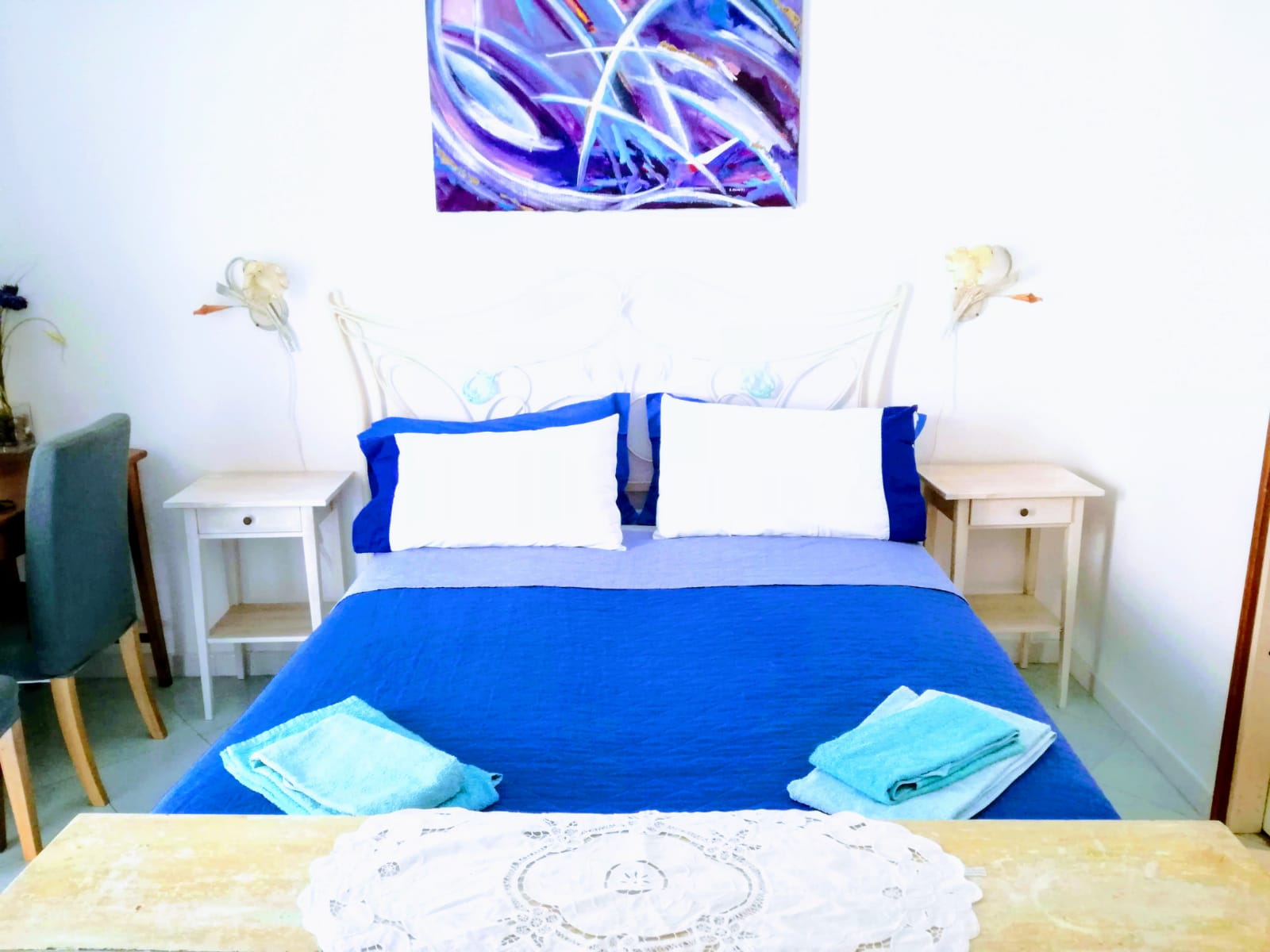 Smeraldo Room
Corallo Room
The VENUS Inn, bed and breakfast  Positano, is in constant maintenance and renovation to offer greater comfort in a pleasant environment and with particular attention to maintaining the characteristics and colors typical of the Amalfi Coast.
Rooms for rent are large, airy and maintain a pleasant freshness on hot summer days. The simple and well-maintained furnishings make the environment pleasant and comfortable.
The bedrooms are double but can also accommodate three people comfortably. All  rooms  have a mini-bar, air conditioning, WiFi connection,  safe box, coffee and tea set, private bathroom with shower, independent, entrance and its own panoramic terrace equipped with table and chairs to enjoy some relax or an aperitif at sunset.
Here or on the main terrace every morning, immersed in pleasant scents and in a unique landscape, a rich breakfast is served with hot drinks and croissants and yoghurt and fruit and ham and cheese and various jams and typical local products.
The cleaning of the rooms of the VENUS Inn , bed and breakfast Positano, is carried out with care and accuracy to guarantee quality for a holiday at a good price.
Best Price Guarantee
Self Check in from 12:00 to 00:00 with the possibility to leave the luggages for arrivals or departures out of hours.
Check out by 10:30.
It is not allowed to bring animals, no smoking  room 
Possibility of  self  check in , out  of arrivals time 
Easy  Penalty for cancellation:
50% of the amount within 14 days prior to arrival date
100% in case of non-appearance without been canceled (no show)
Please send your request to "VENUS Inn ", Bed and Breakfast Positano, to have your best quote.
NO  commissions, No  fees , guarantees you the best price
The holiday at  the VENUS Inn , bed and  breakfast  Positano,  Amalfi Coast, in addition to bathing and relaxation, also offers the opportunity to visit places and fishing villages of the Amalfi Coast with their history and beauty.
From the Venus Inn ,  bed and breakfast Positano  , you can take trips to Capri, visits to the Pompeii Excavations, as well as gastronomic tours, classical music festival in Ravello. In Positano you can also dedicate yourself to mountain walks and underwater activities to discover beautiful caves, sea beds and ancient wrecks of sunken vessels.
There are organized trips  from the bed and breakfast  Positano ,or the sea taxi that can take you in the countless bays of the Amalfi Coast, to explore the caves with stalactites and stalagmites, alternatively visit the island Lì Galli (legendary Isola delle Sirene) the Blue Grotto and the Emerald Grotto . You can also take private tours, rent boats or canoes to organize already at the Venus Inn,  bed and breakfast  Positano.
The surrounding mountains of  the bed and breakfast  Positano offer, for trekking lovers, also walks and picnics immersed in unforgettable sceneries to discover the Mediterranean flora and fauna up to heights of 1400 m. Two of the most famous routes are: the Path of the Gods and the Valle delle Ferriere Amalfi
For the more comfortable you can take a nice tour of the Amalfi Coast on tourist buses or by local buses, instead the more adventurous can rent a scooter or a boat but in any case the nearby towns  are easily reachable even by ferry: Amalfi , Ravello , Sorrento  ,Pompeii and the islands of Ischia and Capri.
At the "VENUS-Inn"  bed and  breakfast  Positano we would be happy to give you other useful information according to your interests, plus maps of the Amalfi Coast, additional ferry timetables to Capri, and bus timetables.

Indimenticabile
Ho soggiornato in questa struttura con la mia fidanzata 3 notti a Settembre 2017. Gippy, una persona straordinaria e molto piacevole, ci ha accolto con grande disponibilità e gentilezza fornendoci indicazioni su come muoverci e cosa fare a Positano. La stanza con balcone è comodissima e molto bella e pulita fornita di ogni comfort. La colazione si fa sulla terrazza con vista mare ed è sicuramente un punto forte. La posizione è strategica. In pochi minuti si arriva alla spiaggia di Fornillo e nel centro di Positano. Inoltre la struttura è a pochi metri dalla fermata degli autobus che passano ogni 10/15 minuti. Consiglio vivamente questa struttura, io ci ritornerò il prossimo anno
Ciccio L

Indimenticabile!
Struttura bellissima, Gippy il titolare e' un grande, gentilissimo, fornisce ottimi consigli, ottima colazione servita sulla terrazza con vista, ottima posizione in centro a Positano con comodità di lasciare la macchina in un parcheggio a due passi convenzionato, la camera ha un ampio balcone con vista, venus inn super consigliato, ci vediamo l'anno prossimo e grazie ancora di tutto! Sara &e Nicola
saravanuzzo

Weekend stupendo
Appena arrivati al B&B quello che mi ha colpito è stata l'accoglienza e la simpatia del proprietario Gippy e la sua disponibilità ad esaudire ogni ns richiesta. Il B&B è davvero carino con una veduta dal terrazzo sul paese molto suggestiva; le stanze sono pulite e dotate di ogni confort e la colazione servita sul terrazzo della struttura è abbondante. Abbiamo passato li 3 giorni bellissimi ...un applauso al proprietario e allo staff. Sicuramente torneremo a trovarvi
Marynovy

Ottima accoglieza
Tre giorni fantastici, grazie all'ospitalità di Gippy e ai suoi preziosi consigli. Ottima colazione con vista sul mare .Panorama incantevole.....Positano é splendida. Torneremo sicuramente a trovarti!
Massimiliano E

Ritorno al Venus Inn
Sono ritornata dopo 5 anni a Positano e non potevamo non fare tappa dal amico Gippy che ci ha accolti come sempre come persone di famiglia.La struttura é anche migliorata di tanti accorgimenti pulita e graziosa ,alla prossima occasione faremo di nuovo tappa qua.Lo consiglio!
atreliu88

Great Host Wonderfull Location
Great place in Positano that exceeded expectations! The view is outstanding, rivaling some of the restaurants that offer the best views. It is also very centrally located where you are able to walk to the center of town or to several restaurants. The host, Gippy, is very helpful with local tips and provides a delicious breakfast every day! I highly recommend this simple but fantastic B&B in Positano!
Wayne

Good Experience!!
Gippy is absolutely fantastic - helpful cheerful great in every way ! we will return!
Peter

Great Stay !!!
The inn is a lovely place, placed in a beutiful spot in the amalfi coast. Great breakfast in an open terrace. Very nice, spaciousroom, comfortable and clean. We had a great time during our visit to the city. We truly recomend it.
Maxime

Wonderful stay at Venus B&B in Positano !!!
If you are going to Positano then I would highly recommend you stay with Gippy at the Venus B&B. He is a wonderful host and his place is very clean with great views and away from the busy street so it is quiet. The breakfast is very good and more food than we could eat. Gippy is a wonderful person. The airline had lost our suitcase and when they had finally found and delivered it to Positano we had already checked out and traveled to Rome. Gippy accepted our suitcase and arranged for transportation of it to us in Rome. He went above and beyond for us even after we had checked out. Gippy is a very genuine and nice person who really cares about his guests.
Jim

Excellent !!!
We stayed at the Venus Inn recently for 6 nights. Gippy is a fantastic host very welcoming and nothing is too much trouble. We had already done some extensive research on what to do but his local knowledge made our visit even better. The breakfast was lovely with tea (or coffee), fresh croissants, jam, fruit, yoghurt as well as bread, ham and cheese. The views from our balcony were fantastic looking across Positano with the sea to the right. Although we had air conditioning we never needed it as the ceilings are so high the room stays cool.
The Glover UK

Great location & place and staff are the best !!
Great location- clean property -the staff are the best Close to the internal bus station - Gippy are friendly nice he will definitely help any case any situation even contacting companies to make sure my tours will be in time - he will recommend and explain how to get the best beautiful things from positano weather attractions activities restaurants shopping places everything The breakfast from the terrace is just amazing Definitely recommend it and definitely I will be back hopefully soon 😊 Positano is the best for vacation restaurant ppl weather everything just perfect.
Ayman

AMAZING !!
Accommodations were extremely well kept, the owner was AMAZING, extremely hospitable, I will definitely come back.
Christopher

Excepcional!!
Todo! El alojamiento está impecable, con detalles de estilo de la zona. Tiene una terracita con una preciosa vista al mar y a la ciudad. La habitación es grande y cuenta con un balconcito. El baño privado cómodo, todo muy limpio. El desayuno es completísimo, todo súper fresco (mermeladas caseras, miel, manteca, frutas, tostadas, jugo, pancitos, facturas, salame y queso, té, capuchino, café). Gippy es un gran anfitrión, con gran calidez humana, súper atento y dispuesto a darte toda la ayuda que precises. Nos sentimos muy a gusto y disfrutamos muchísimo los días que estuvimos en Positano. Sin lugar a dudas, vamos a volver
Yageist

Fabuleux!!
Chambre confortable, accueil sympathique, terrasse privative avec magnifique vue sur la mer. Très bon petit-déjeuner
Anne-laurence

Perfect Spot in Positano
The location is perfect, views are amazing and Gippy (the owner) is our new friend in Italy. Gippy,truly went overboard in helping make our stay wonderful. His advise was spot on and even better he will arrange your transportation, touring and reservations. Gippy's hospitality topped off and amazing location to relax, shop, tour or just hang out on the beach. We would recommend the Venus Inn and Positano to anyone.

Wonderful Budget-Friendly Choice in Pricey Positano
We had a wonderful experience at this lovely property approximately mid-mountain in Positano. First, the rooms have an incredible view and are well equipped for your stay. Breakfast is very nice and served on your balcony. Gippy is a fabulous host, takes time with his guests, gives great recommendations and genuinely cares about his guests. If you are looking for a cost-conscious accommodation and friendly atmosphere, you can't go wrong here.
Kelly

Spectacular views in a beautiful location
We had the most amazing stay in Positano thanks to our host Gippy. He catches up with each guest at breakfast and gave us such good advice on how to make the most of our stay. He recommended restaurants, how to best get around and where to go. The rooms are lovely and clean and smell so fresh. The views from our balcony and the breakfast terrace are spectacular! The daily breakfast is a lovely mix of fruit, yogurt, toast/bread rolls and jam, juice and of course coffee and cornetto! We were also offered a cheese and cured meats platter. The location is perfect with parking nearby. We walked down to the beach browsing beautiful shops and eateries along the way and then caught the local bus back uphill which stops right in front of the Inn. Highly Recommend
Franca

Superb week in Positano
This was a wonderful stay. The location is perfect. Not too low down and also not too high up. Lots of good restaurants around as well as access to a quiet beach. The rooms were comfortable and clean and very homely. Breakfast was ample and good. Gippy and Maria the hosts were absolutely superb and extremely helpful. Would recommend highly and reuse this establishment next time.
Larry

Positano dreaming in Venus Inn
We based ourselves 5 nights in Venus Inn and it's truly an amazing stay! B&B is located in the middle hill, not too high to walk to beaches, shops, ferry terminals, and bus tops, also not too close to the noise in the main town. Enjoyed fantastic breakfast with a view and sun shining on the face every morning. The host Gippy was extremely friendly and provided lots of tips in getting around in Amalfi Coast.
Lisa